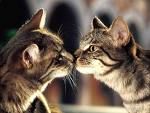 Come Meet Your Match®!
Are you a Purple, Orange or Green? CHS has a fun new way to match you with your compatible companion, stop in today!
This is a scientifically based program was developed by the ASPCA specifically for shelters. It's simple. Who doesn't like to play games? Capital Humane Society offers the ASPCA® Meet Your Match® Feline-ality adoption program. This research-based program was created by Emily Weiss, Ph.D., in conjunction with the American Society for the Prevention of Cruelty to Animals (ASPCA®).
You could be gazing at the animal of your dreams, but you just can't tell what she's thinking behind that furry face. What if you knew a little something about her personality and habits before you moved in together? The ASPCA's Meet Your Match® program wouldn't let you go home without knowing who's in that carrier. MYM is the only method in existence today that evaluates an animal's behavior and interests and matches them to an adopter's preferences so that you take home a pet you can really click with.
More in-depth evaluations of all our adoptable cats will give us personality profiles or feline-alities. (How do they react to new surroundings, being left alone, played with, etc.)
You fill out a survey to tell us what you're looking for in a pet. Based on those responses you'll get a color. We encourage you to find pets with the same color because they will have the characteristics that best fit your lifestyle. You are not required to choose a pet that shares your color.