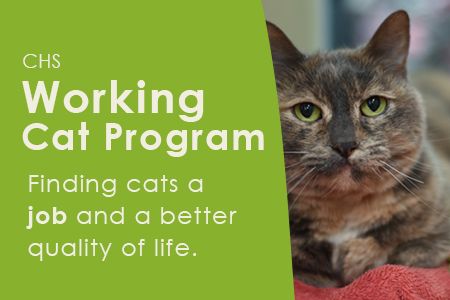 Interested in Working Cats?
Traditional family homes aren't for every cat.  Working Cats are best suited for outside homes due to being independent or semi-feral to feral.  These cats are available to community members looking for natural pest deterrents.  Whether you run a business/shop or maintain a barn, or just want a few mousers on your property, we can help you find the perfect working cat for your environment.   
Benefits
·        Reduced adoption fees (waived)  
·        Pest control
·        Vaccinated, microchipped, spayed/neutered prior to placement
·        Ideal for barns, warehouses, garages/shops
·        Provides a home for previously homeless animals
·        Helps reduce the number of cats euthanized
Requirements
·        Adopters must provide food, water, shelter and any necessary veterinary care.
·        Working Cat homes need to be outside of City limits.
·        Adopters will need to allow two to four weeks for the cats to acclimate to their new homes.
FAQ
 How much does it cost to adopt a Working Cat?
Due to grant funding, working cat adoptions are waived until further notice.  
What do I do when I bring the cat(s) home?
 New cats will need to be confined to a secure room or wire crate for 2-4 weeks while they acclimate to their new surroundings.  Capital Humane Society's Working Cat Program can provide a wire crate, if needed. If a wire crate is provided we will need the crate back once you are done using the crate.  You will need to provide food, water, and a clean litter pan for this transitional time period.  Once the cat(s) are ready to be released, daily food, water, access to a litter box and 24/7 access to a safe shelter is to be provided by you, as the adopter. Below is an example of the wire crate we will provide:
Are they spayed or neutered?
Yes, all working cats come spayed or neutered, current on vaccinations, microchipped, and ear tipped.
Do you have any friendly working cats?
No, the majority of the cats in the Working Cat Program are not social nor suited to be indoor pets.  We strongly encourage our adopters to offer the cats in this program an independent outdoor lifestyle with the required food/water and shelter.  If you are interested in adopting a friendly cat for your home please visit our adoptable cats page. 
Do you have any working kittens?
The youngest cats in the Working Cat Program are approximately 3-4 months old.  The Capital Humane Society will not adopt out younger kittens as working cats as they don't have the knowledge, size or skills to safely transition to a new outdoor environment.  They are also not old enough for their rabies vaccine until they are 3 months old.
 Can I come look at or select, my barn cats?
No, the cats in our Working Cat Program do not enjoy being at the shelter, therefore they will not show their true selves in the shelter environment. The CHS Working Cat Coordinator will select working cats for you based on specific request via website/application or by who has been waiting at the shelter for their new home, the longest.  If you have a color, age or gender preference, we will do our very best to accommodate you, however, we cannot promise your requests will be met. 
Contact Us
If you have any questions about the Capital Humane Society Working Cat Program, please email us at lnobbe@capitalhumanesociety.org   
Available Working Cats
Click here to see cats currently available for adoption as working cats.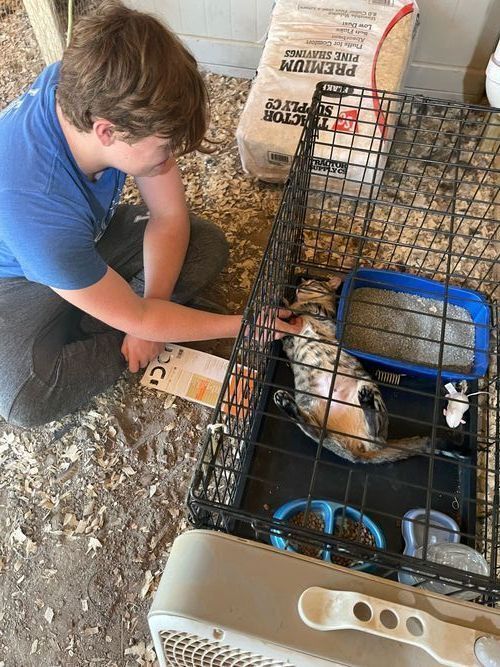 CHS Working Cat Adoption Application