Holiday Bulbs Available Now
You can help us decorate our tree by purchasing a holiday bulb for $10! Each bulb purchased will provide a microchip for a pet in our adoption program!
Bulbs can be purchased in memory or in honor of a special person or pet and their name can be written on the bulb. Or you can just purchase a bulb to fill our tree and help adoption pets!
To purchase a bulb, visit the Pieloch Pet Adoption Center or our Admissions & Assessment Center. You can also purchase bulbs through our website by putting "Holiday Bulb" in the gift memo box!
Bulbs are available for purchase NOW and can be picked up starting December 26th through the end of January.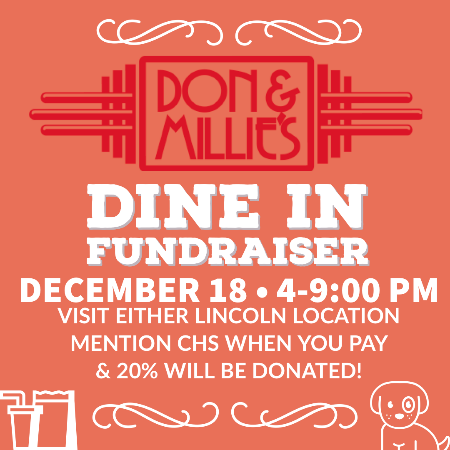 Visit either Lincoln Don & Millie's location on Wednesday, December 18th between 4:00-9:00pm and mention CHS when you pay! Don & Millie's will donate 20% of your ticket to Capital Humane Society!
Community Cone Cares at Ivanna Cone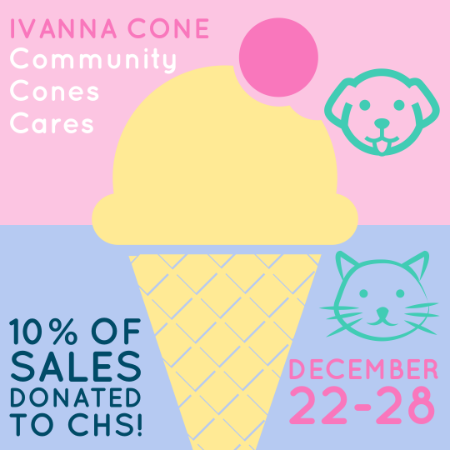 Between December 22-28 Ivanna Cone will be making a unique ice cream called Critter Chow, a powdered sugar ice cream with cookies-n-cream puppy chow & sprinkles, with a portion of the sales going directly to us! Additionally Ivanna Cone will donate 10% of all sales during the week of December 22-28. We will have volunteers at Ivanna Cone on Monday, December 23 from 5-7 PM, we would love to see you there.