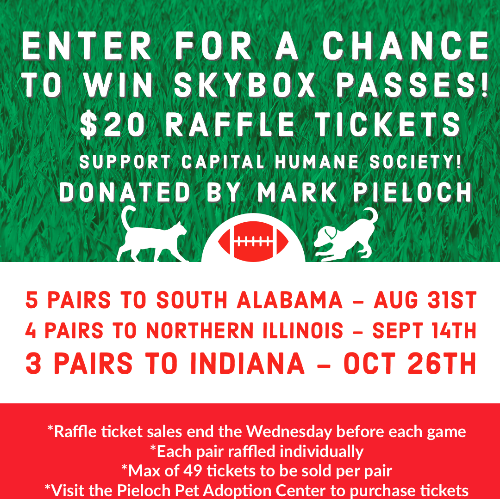 Enter for you chance to win passes to sit in an east stadium skybox during Husker games this fall! These passes were generously donated by Mark Pieloch and are valued at $1,500 per pair. All proceeds from the raffles will help animals in our care!
Details
Raffle tickets are sold for $20.00 each.
Must be paid for by check or cash only. Checks made payable to Capital Humane Society.
Twelve (12) separate pairs of passes will be raffled through individual raffles for each pair.
Only 49 tickets will be sold per raffle/pair of passes.
Each person can purchase an unlimited (up to the maximum per raffle available) number of raffle tickets per pair of passes.
Twelve (12) winners will be selected. One winner per raffle/pair of passes.
Ticket sales will end for each game on the following dates:

Game One – South Alabama at 1:30pm on August 28th or when all tickets are sold.
Game Two – Northern Illinois at 1:30pm on September 11th or when all tickets are sold.
Game Three – Indiana at 1:30pm on October 23rd or when all tickets are sold.

Drawings will be held at 2:00pm on each of the above dates and the winners will be contacted.
Tickets can be purchased at the Pieloch Pet Adoption Center
Capital Humane Society staff, board members, and anyone living in the same residence as staff or board members cannot purchase tickets.