Click to Register for the Tails 'N Trails Pet Walk Today!
5th Annual Kitten Shower
Gordmans "Give for Goodness Sake"

Gordmans is helping support us during the month of April with its generous "Give for Goodness' Sake" giving campaign! When you shop at Gordmans in April, you can donate directly to us at checkout! Every donation helps us find homes for our adoptable pets!
Corvette Raffle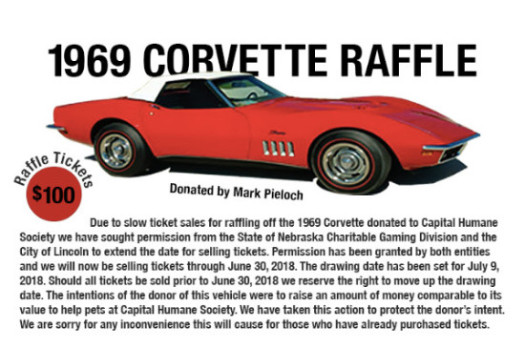 Tickets can be purchased at either of our locations or at Duteau Chevrolet. If you can't make it to either of these locations you can still purchase a raffle ticket!  Just write a check to Capital Humane Society and mail it to 2320 Park Blvd, Lincoln, NE 68502 and we will mail the ticket to you. We apologize for any inconvenience the change in drawing date may cause. If you would like to withdraw your ticket from the raffle please contact us and we can void & refund your ticket.
Low-Cost Feline Spay/Neuter Program
CHS Working Cat Program
Animal Training Classes
We want to provide individuals with the tools they need to train their dogs to be polite pets. Click on the picture to learn more about our dog obedience class.