Holiday Hours
Both of our locations will be closed on Thursday, November 22nd for Thanksgiving to allow our staff to spend time with their families. We will have normal business hours on Wednesday, November 21st and Friday, November 23rd.
Join Our Team
We are currently seeking candidates for multiple Animal Care & Adoption Counselor positions at our Pieloch Pet Adoption Center. To learn more about the positions and how to apply, click here.
Help Decorate Our Tree
Annual Holiday Run
It is time for Pet Pictures with Santa again! To sign your pets up for pictures with Santa, give Camp Bow Wow Lincoln a call at 402-474-9663! Pictures will be taken between 5:00 and 8:00 p.m on Friday, November 9th and Tuesday, November 13th at Camp Bow Wow Lincoln. For $25, you will receive a picture CD & two 4x6 prints. Each additional pet is $5 and all proceeds will benefit Capital Humane Society! Appointments fill up fast so call to schedule your time right away!
Dine In Fundraiser Night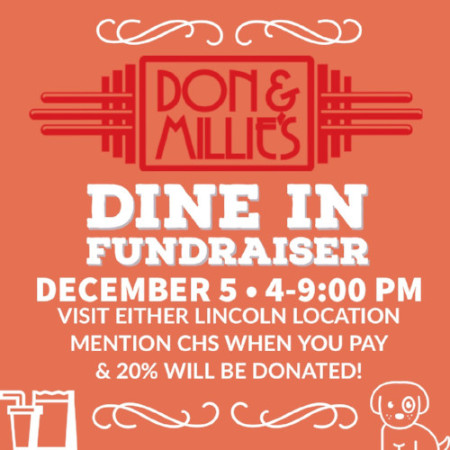 Low-Cost Feline Spay/Neuter Program
CHS Working Cat Program
Location Information
Pieloch Pet Adoption Center
Those interested in adopting a new companion can visit and interact with potential new pets at Capital Humane Society's Pieloch Pet Adoption Center which is located at 6500 S. 70th Street. The center is open Monday from 3pm-7:30pm, Tuesday through Friday from 11:30am-7:30pm and Saturday-Sunday from 11:00am-5:30pm. All adoptions and interactions end a half hour before closing. The phone number is (402) 441-4488 ext. 1.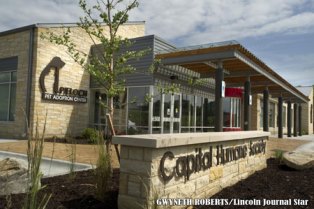 Admissions & Assessment Center
Individuals who have lost their animal can look for their lost pet and reclaim them at Capital Humane Society's Admissions & Assessment Center located at 2320 Park Boulevard. Animals being surrendered should be brought to this location too. This location is where all animal admissions and assessments occur. Animals found by citizens, Lincoln Animal Control, and the Lancaster County Sheriff are brought to this location. Business hours at the Admissions & Assessment Center are Monday-Friday from 10:30am-6:00 pm and Saturday-Sunday from 12:00-4:00 pm. The phone number is (402) 441-4488 ext. 2.

Animal Training Classes
We want to provide individuals with the tools they need to train their dogs to be polite pets. Click on the picture to learn more about our dog obedience class.