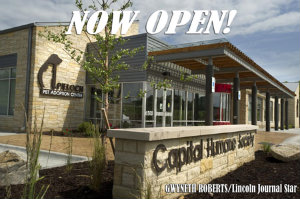 Visit The New Pieloch Pet Adoption Center
Pieloch Pet Adoption Center
The Pieloch Pet Adoption Center opened it's doors to the public on July 2, 2013. Over 400 people visited the first day and 12 animals were adopted! This facility operated by Capital Humane Society is open Monday through Friday from 11:30-7:30 p.m., and Saturday and Sunday from 11:00 am-5:30 pm. The Pieloch Pet Adoption Center is located at 6500 S. 70th, next to Home Depot. This facility is the adoption and education center for Capital Humane Society.
2320 Park Boulevard Site
Admissons & Assessment Center
Our original location at 2320 Park Boulevard is where all animal admissions and assessments occur. Animals found by citizens, Lincoln Animal Control, and the Lancaster County Sheriff are brought to this location. Individuals who have lost their animal can look for their lost pet and reclaim them here. Animals being surrendered should be brought to this location. Business hours at the Admissions & Assessment Center are Monday-Friday from 10:30-6 pm and Saturday-Sunday from 12-4 pm.