Chiefs Tickets For A Cause
Beer Tasting Benefit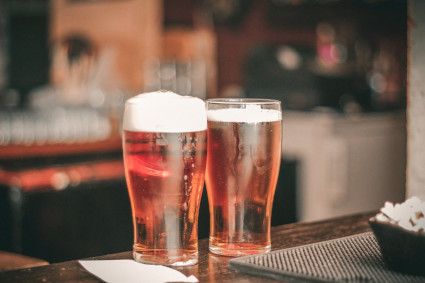 Join us at The Still, 6820 S. 70th Street (right by the Pieloch Pet Adoption Center), on Thursday, June 28th from 5:00-8:00pm for a beer tasting benefit! This fun benefit tasting features "All American" beers and brats hot off the grill! 100% of the $10 tasting fee will be donated to us! Come on out and enjoy some brews & brats to support homeless pets!
Corvette Raffle Ends Soon!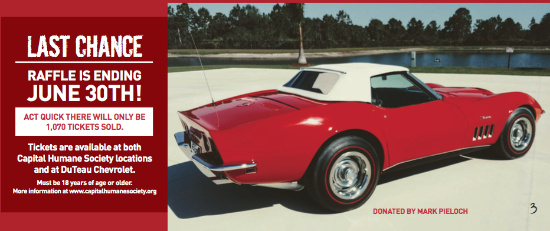 Low-Cost Feline Spay/Neuter Program
CHS Working Cat Program
Tickets can be purchased at either of our locations or at Duteau Chevrolet. If you can't make it to either of these locations you can still purchase a raffle ticket!  Just write a check to Capital Humane Society and mail it to 2320 Park Blvd, Lincoln, NE 68502 and we will mail the ticket to you. We apologize for any inconvenience the change in drawing date may cause. If you would like to withdraw your ticket from the raffle please contact us and we can void & refund your ticket.
Location Information
Pieloch Pet Adoption Center
Those interested in adopting a new companion can visit and interact with potential new pets at Capital Humane Society's Pieloch Pet Adoption Center which is located at 6500 S. 70th Street. The center is open Monday from 3pm-7:30pm, Tuesday through Friday from 11:30am-7:30pm and Saturday-Sunday from 11:00am-5:30pm. All adoptions and interactions end a half hour before closing. The phone number is (402) 441-4488 ext. 1.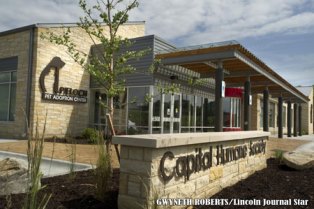 Admissions & Assessment Center
Individuals who have lost their animal can look for their lost pet and reclaim them at Capital Humane Society's Admissions & Assessment Center located at 2320 Park Boulevard. Animals being surrendered should be brought to this location too. This location is where all animal admissions and assessments occur. Animals found by citizens, Lincoln Animal Control, and the Lancaster County Sheriff are brought to this location. Business hours at the Admissions & Assessment Center are Monday-Friday from 10:30am-6:00 pm and Saturday-Sunday from 12:00-4:00 pm. The phone number is (402) 441-4488 ext. 2.

Animal Training Classes
We want to provide individuals with the tools they need to train their dogs to be polite pets. Click on the picture to learn more about our dog obedience class.