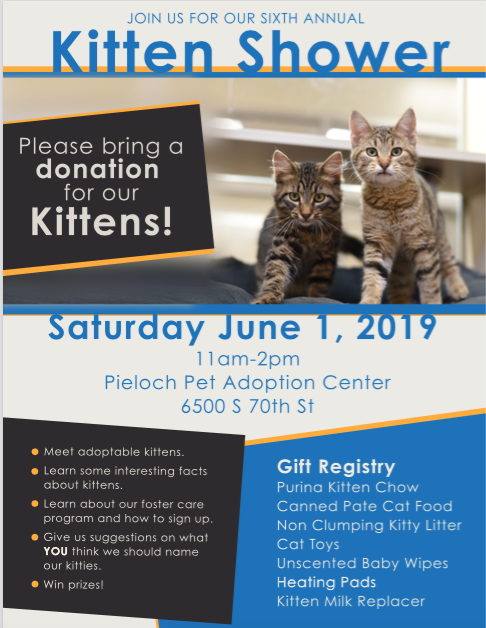 Our 6th Annual Kitten Shower is Saturday, June 1st from 11:00am-2:00pm at the Pieloch Pet Adoption Center! We hope you will join us as we prepare for kitten season!
You will be able to meet adoptable kittens, learning about our foster care program & how to sign up to be a foster parent, meet current foster parents, give suggestions on what you think we should name our kittens, and enter for a chance to win prizes!
Attendance is free but we ask for you to consider bringing a donation (or donations) from our kitten & foster care wish list. We hope to see you at this fun event!
Amazon Wish List: https://amzn.to/2SYJZe0
Gift Registry Items:
-Purina Kitten Chow
-Canned pate cat & kitten food
-Non clumping cat litter
-Cat toys (hard plastic, easy to disinfect toys)
-Heating Pads
-Blankets
-Unscented Baby Wipes
-Kitten Milk Replacer (KMR or PetLac)