Available Dogs & Puppies
Yukon & Shadow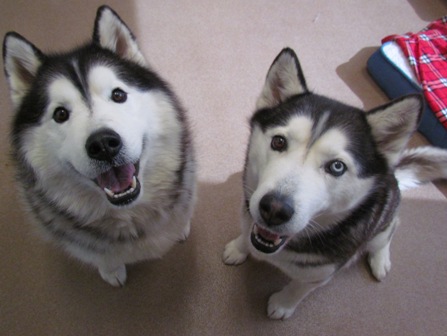 Yukon is a 5 year old, neutered male, Siberian Husky that weighs 89lbs.
Shadow is a 6 year old, spayed female, Siberian Husky that weighs 76lbs.
These two were adopted but then returned when their owner moved. They are a perfect pair and need to be adopted together. A serious and experienced owner who knows about the breed is needed. Due to their escape artist history, they should not be left alone outside. Shadow and Yukon will need daily exercise and training. This will help them to slim down and with their energy level. Yukon does not like having tangles brushed out. New owners should keep up on their grooming so that the fur does not tangle. Huskies shed and need to be brushed regularly but should not be shaved. They will need to meet all other dogs prior to adoption as Yukon can be a bit growly with other dogs. We are also asking that these two go to a home with no kids under the age of 8. These two can also be vocal. Please contact our behavior department with any questions.