Available Dogs & Puppies
Fuzzy & Bruizer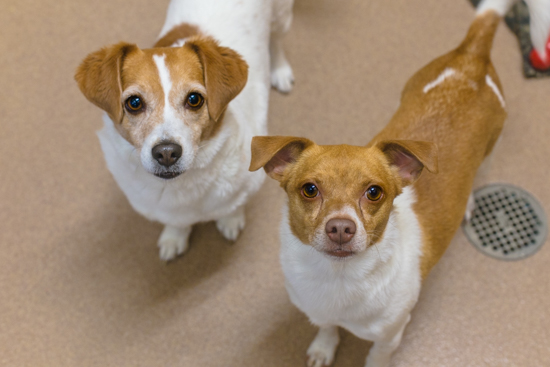 Fuzzy is a 4 year old, spayed female, Beagle mix that weighs 19.1lbs.
Bruizer is a 4 year old, neutered male, Beagle mix that weighs 16.1lbs.
These two cuties are a perfect pair and need to be adopted together. They need a family that can work with them as they still need to be house-trained. According to a previous owner they are good with kids but there was also food / rawhide aggression noted. There was no aggression observed in his temperament test but this could appear in a new home. Due to this it is recommended that Fuzzy and Bruizer go to a home without small children.
The owners also noted that they have snapped at cats and other dogs. During an interaction with another dog they did not have much interest. It is recommended that they meet other dogs prior to adoption. They need a home with no cats.
These two were also outside dogs that like to escape the property. A fenced yard is recommended. It was noted by a previous owner that if you try to move Fuzzy while she is sleeping she lunges. These two could use an owner willing to work with them. Please contact the behavior department with any questions.
They are #51918 and #51917.