Available Cats & Kittens
These are pictures of some of the beautiful cats available for adoption. Please come to the Pieloch Pet Adoption Center at 70th and Hwy 2 to see all the cats and kittens in the adoption program. Feel free to call us at (402) 441-4488 to see if an animal is still available for adoption or if it has been adopted. The hours at the Pieloch Pet Adoption Center are Monday from 3:00-7:30pm, Tuesday-Friday from 11:30 am-7:30 pm, and Saturday & Sunday from 11:00 am-5:30 pm. All adoptions and interactions end 30 minutes before closing.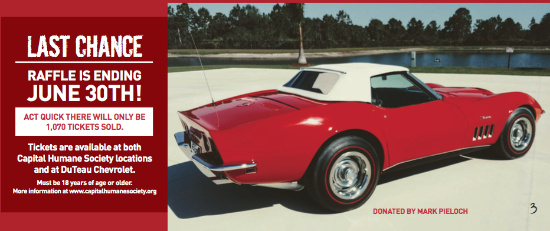 Tickets can be purchased at either of our locations or at Duteau Chevrolet. If you can't make it to either of these locations you can still purchase a raffle ticket!  Just write a check to Capital Humane Society and mail it to 2320 Park Blvd, Lincoln, NE 68502 and we will mail the ticket to you. We apologize for any inconvenience the change in drawing date may cause. If you would like to withdraw your ticket from the raffle please contact us and we can void & refund your ticket.