5th Annual Kitten Shower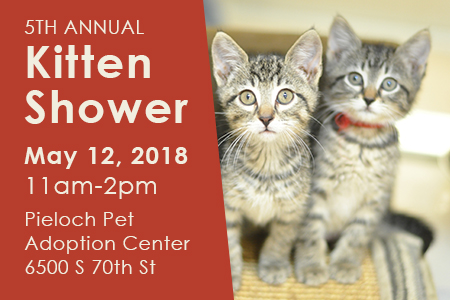 Join us for our 5th Annual Kitten Shower on Saturday, May 12th from 11:00am-2:00pm at the Pieloch Pet Adoption Center!
Come meet kittens and cats available for adoption!
Meet current foster parents and learn about our foster program!
Enjoy refreshments and snacks!
Enter to win raffle prizes!
We are entering the busiest time of the year for our foster care program and tend to see many more litters of kittens and nursing mother cats as we move into late spring and into the summer months. We can always use donations for our foster care program and you can help us prepare for kitten season by bringing in a donation from our Kitten Shower Wish List!
Kitten Shower Wish List
Kitten Milk Replacer (Powder PetLac or KMR brands)
Purina Kitten Chow
Canned Kitten Food (Pate)
Cat Toys
Heating Pads
Feeding Bottles
Kitten Shampoo (Johnson Baby)
Cat Stuffed Animals
Stool Softner (Liquid Gel Capsules)
Non Clumping Cat Litter
Digital Kitchen Scales