2017 Tails 'N Ties Annual Dinner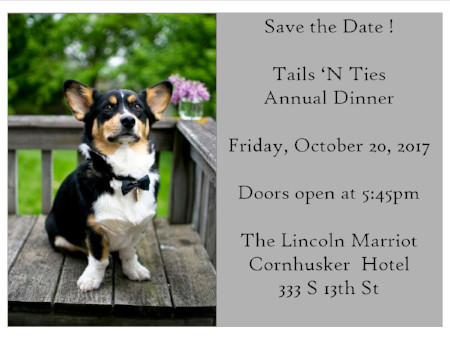 Join us for our 31st Annual Dinner on Friday, October 20th, 2017 at the Cornhusker Hotel!  
Doors open at 5:45 p.m.  Dinner will be served at 6:30 p.m.
Capital Humane Society is a non-profit organization that relies heavily on donations from our community to continue to fulfill its mission.  We provide shelter to animals, protect animals, and teach compassion and respect for them.
With your help, we can offer valuable services including animal adoptions, reuniting lost pets with their owners, pet training classes, assistance with behavioral concerns, foster care and pet therapy for residents in care facilities.
Over 400 animal supporters, staff and volunteers attend the event. Some are also sponsors of the event.
We have a wide array of magnificent live and silent auction items along with a wonderful meal and a stirring story auction.
We have table sponsorships available at $600, $1000, $1500, $2,000, and $2500. Headline sponsors are $3000.
Individual tickets: $55
For more information or to become a sponsor, please email donorrecords@capitalhumanesociety.org or call (402) 441-4481.